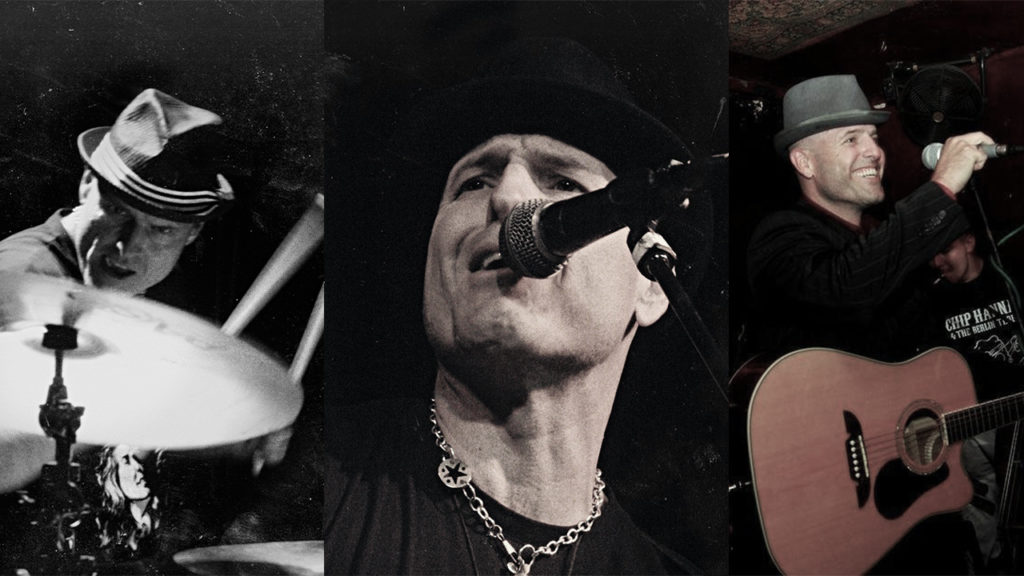 You would be hard pressed to find a more well-rounded musician than Chip Hanna. Nowadays, between drumming gigs with Legendary Punk Powerhouse TSOL (he's drumming on their new full length LP) and solo acoustic residencies at Grand Canyon West in Northern Arizona, Chip packs a Martin HD28 acoustic guitar and sings and plays at venues and functions throughout the American Southwest. Chip Hanna performs up to 4 hours of classic tunes solo along with his original material. Or you might have seen him drumming on tour with Los Angeles punk innovators "The Weirdos" Drums are Chippy's 1st instrument. He has a couple other punk credits that can be listed; He occupied the drum stool for two influential '90s California punk outfits, the Legendary Orange County Skate punk misfits U.S. Bombs and the San Francisco Bay Area favorites One Man Army. He loves to play drums, and punk rock keeps his chops in shape. Here lately, Chip has been the main songwriter and lead vocalist for "Chip Hanna and the Berlin Three" In which he also plays rhythm acoustic guitar. "It feels like I got a second chance at a musical career when I started playing guitar and singing full time" which was shortly after leaving One Man Army. Chip Started working at Rawhide Western Town in Scottsdale AZ. "I started at the bottom of the ladder out there at the 'Hide. Put in some crazy hours in the triple digit Phoenix Valley heat." He learned how to fall off buildings and perform in front of Live audiences."My boss asked me one day if I wanted to play a song before the Six Gun Theatre shows, of which I had become a member" "These were the gunfights and stunt shows at Rawhide that were known the world over" Chippy said yes and started performing one song before each of the 8 daily stunt shows. "I would come out and sing my one old tune and then play cowboy in the show, which was mostly getting your butt kicked in the 120 degree heat and rolling around in the sand!" However he learned the art of playing music in front of a live audience. "To me, playing those shows was like doing live TV back in the 50's. I had my one chance to do it right. Some days it was great. Some days not so great!" Besides "Live Performance 101" at Rawhide, Chip made valuable connections there. "I came into town one day and saw this kid playing with his dad's band on Main Street. This turned out to be Tony Martinez, a virtuoso musician that I have collaborated with since and has played on both Berlin Three records, plus the "Mucho Americana I" single. Take it from me. You will hear more from "Badass Tony Martinez" It was also around this time that Chippy joined the Phoenix-based bluegrass band "Busted Hearts" and released 1 record, "Sin, Sorrow and Salvation" to critical acclaim. "Busted Hearts was the 1st lead vocal chores i ever tackled. Bruce Cannole virtually taught me how to play guitar and Keith Jackson wrote some great songs that I still sing today. Amos Cox was a positive influence and of course we all miss Kevin" (Pate, bassist. recently passed away) "Joining Busted Hearts was a turning point in my career and I would love to sing some more bluegrass one day" After drumming on 5 full length records (Warbirth, The World, Back at the Laundromat, Lost In America, Generation Kennedy No More) with the U.S.Bombs, the 1st of which, "Warbirth" was the 1st release from Tim Armstrong's Hell-Cat label (and rumored to be on Joey Ramones' turntable when he died) and one full-length (Rumors and Headlines) and split (BYO Records Split Series w/Alkaline Trio, which he produced) with One Man Army, Chip decided to try his hand fronting a band. "I had met these fantastic German musicians Mad Sin. We became such good friends because we were interested in the same music" "Tex Morton, Andy Laaf and Valle Mortal and I formed "Chip Hanna and the Berlin Three" We've released 2 records, "Chip Hanna and the Berlin Three" in 2007 and "Old South Jamboree" in 2008 on People Like You Records. "Anybody that knows me knows that I like anything Punk and -'billy! This is what we try to make! Country music was what I grew up on" Chip's mother sang in country music jamborees and on the radio when he was kid in Pride, Louisiana. "I started playing drums at an early age and grew to enjoy playing all music, but I keep coming back to The Clash, Stiff Little Fingers, Hank Williams, Johnny Cash, Sam Cooke, Merle Haggard, Buddy Holly, Hank III., the list goes on" "Only 2 kinds of music I've grown to believe; Music you like, or music you don't like…"
Donate to their paypal account! support your local bands!
Donate Now!

PayPal is: [email protected]
Venmo is: @Chip-Hanna
BUY THEIR MERCH BELOW!